September 13, 2023
8 am - 2:30 pm
Old Orchard Hill School
350 Foster Street, South Windsor, CT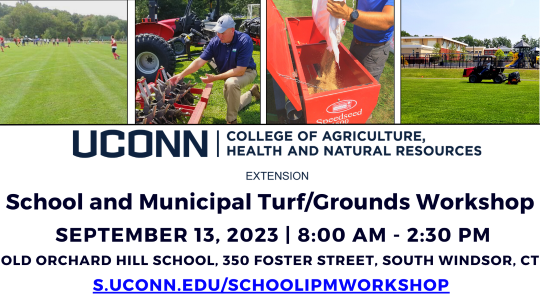 Join us for an exciting day of presentations featuring current science-based research and information on supporting landscape management in Connecticut schools.
This program is designed for municipal grounds managers, facilities managers, sports turf managers, and landscape professionals who contract with school districts. Learn skills and strategies to support turf and landscape health throughout the year!
Session topics:
Using Alternative Management Strategies for Safe Playing Fields Wetting Agents, Zachary Holm, CSFM, Turf Care Manager, Central Park Conservancy, NYC
Fertilizer, Cultivation, and Overseeding Considerations for Fall and Early Spring, Jason Henderson, Associate Professor of Soil Science, University of Connecticut
Invasive Plant ID & Management Tactics, Dave Laiuppa, Environmental Planner, Manchester, CT and Todd Mervosh, TM Agricultural and Ecological Services, LLC
Time with Diane - Updates and Current Topics of Interest, Diane Jorsey, Supervising Environmental Analyst, CT DEEP, Pesticide Management Division
**Newly added! Tree Health and Pest Issues, Gregory Foran, Parks Superintendent and Tree Warden, Town of Glastonbury, CT
Panel: Ask the Experts, Jason Henderson, Diane Jorsey, Zachary Holm, Dave Laiuppa, Todd Mervosh,

Vickie Wallace, John Caldwell and Dave Turkington
Registration is FULL! 
Registration: $50.00 by noon on Friday, September 8
Last minute registration (after Sept. 8) and day of/walk in registration: $65
Registration fee includes:
- Information packet, including printed copies of UConn Best Management Practice Guides
- Light Breakfast, Refreshments and Lunch
- Parking
- Pesticide recertification credits (pending state approval)
- Opportunity to network with UConn faculty and fellow grounds managers
Pesticide recertification credits - 4.5 (categories 3A, 3B, 3D, 6)
Please note that registration is nonrefundable.
If you require an accommodation to participate fully in this event (e.g., a sign language interpreter, handicap accessible seating, etc.), please email alyssa.siegel-miles@uconn.edu. Requests must be received at least 5 business days in advance.
Questions about registration? Need a PO #?
This program is brought to you by:
Vickie Wallace and Alyssa Siegel-Miles, Dept. of Extension
School and Municipal Turf/Grounds Resources: