Connecticut Invasive Plant Working Group Symposium: Realistic Solutions to Managing Invasive Plants Symposium.
October 7, 2020. Virtual.
Organizers: Victoria Wallace, Extension Educator and UConn Liaison to CIPWG, and members of the CIPWG planning committee
The 2020 biennial symposium was attended virtually by 386 people. The symposium theme was Realistic Solutions to Managing Invasive Plants. While the program was presented in a different format due to COVID-19, the virtual program was well received and was successfully implemented. The all-day event featured regional and local experts as well as citizen volunteers sharing practical solutions for invasive plant management and actions needed to promote native species and improve wildlife habitat. Pesticide credits were awarded. Symposium information is available on the CIPWG website.
This conference featured presentations on:
Large Scale Management (Managing Large Parcels of Land: A Case Study), by David Gumbart, Director of Land Management, The Nature Conservancy and Chris Polatin, Restoration Ecologist, Land Stewardship, Inc.;
Native Alternatives (Enhancing Habitat for Wildlife, Production of Local Ecotypes of Native Plants), by Charlotte Pyle, CIPWG Co-Chair, Darryl Newman, Principal, Planter's Choice Wholesale Nursery, and Peter Picone, Wildlife Biologist, State of CT DEEP Wildlife Division;
Aquatic Invasives (Hydrilla, Phragmites australis), by Greg Bugbee, Associate Scientist, Connecticut Agricultural Experiment Station and David Wong, Environmental Analyst, Massachusetts Department of Environmental Protection;
Tools & Timing of Invasive Plant Management (Chemical Tools, Manual and Non-Synthetic Control, Drones to Map and Monitor Water Chestnut), by Randy Prostak, UMass Extension Weed Specialist, UMass Amherst, Michael Bald, Founder, Owner, Got Weeds?, and Joshua Tracy, Invasive Species Management Technician, South Central Connecticut Regional Water Authority;
Small Scale Management (Reclaiming Meadows, Managing Mugwort and Reed Canarygrass), by Kathleen Connolly, Landscape Designer, Speaking of Landscapes, LLC, Lydia Pan, President, Wild Ones Mountain Laurel Chapter, Michael Nadeau, Ecological Landcare Consultant, Wholistic Landcare Consulting, LLC;
How to be Heard by Your Legislator: Moving your Ideas into Law, by Patricia Wilson Pheanious, State Representative, 53rd District, and more.
98.5% of attendees stated that they are likely to incorporate the information presented during the symposium into their occupation/invasive plant management efforts. 89% of attendees who completed the evaluation forms rated the program as good to excellent. 96% felt that the presenters were knowledgeable about the subject matter and 84% of attendees stated that the symposium was well organized. 90% agreed that the symposium provided practical ideas for addressing invasive plant issues. 57% found the virtual symposium to be as valuable as an in-person conference; many appreciated the convenience, lack of commute, the option to "rewind" and review, and time efficiency. However, the other 43% preferred in-person programs, primarily because they missed the interpersonal connections and networking.

2020 CIPWG Symposium attendee comments
Lots of information from very knowledgeable experts. I really appreciated the information on small scale management. I really liked the availability of the question and answer portion of the sessions.
I enjoyed all of the breakout sessions and presentations. I thought everything was very well done. I had a little technical difficulty on my end, but everything on your end was terrific. I enjoyed the topics as well, and thought they were right on the money as far as relevance.
Excellent, well organized presentations with useful slides and discussion. The breakout sessions I attended were very good and expanded my knowledge of the areas discussed.
They were all very well done. I also liked the fact that everything was on time. It was interesting to compare and contrast the use of chipped mulch vs. plastic in various projects. It is helpful to have multiple options depending on the site.
UConn's Cut Flower Growers Workshop
January 14, 2020. Maneeley's Conference Center, South Windsor, CT
Organizer: Mary Concklin, Extension Educator
The second annual Cut Flower Growers Workshop was held with 113 in attendance. This workshop, for experienced growers, beginning growers, as well as those interested in pursuing this crop, covered seven topics
Digging into Dahlias. Tania Cubberly, Skyfall Flowers, Winslow, ME
Do You Want To Get Into The Business? Kristen Terry, Goldust Gardens, Milford, CT
CT Cut Flower Collective. Kate Brunson, Maple & Mum, Branford, CT
Succession planting. Haley Billipp, Eddy Farm, Newington, CT
Marketing Part 1 - Farmers Markets & CSAs. Elise Cusano, Four Root Farm, East Haddam, CT
Marketing Part 2 - Weddings & Events. Kate Brunson; Michael Russo, Trout Lily Farm, Guilford, CT
Leave No Flower Behind. Tania Cubberly, Skyfall Flowers, Winslow, ME
Risk Management. Joe Bonelli, UConn Farm Risk Management and Business Extension Educator
Fifty-five attendees responded to the evaluation with 98% indicating this was an excellent conference.
Attendee Comments
This was AWESOME! Thank you so much for offering this workshop. I'll come to everyone you put on – so helpful.
Very valuable to hear from fellow farmers as well as designers and to learn what they want!
I really enjoyed the wide range of detailed and concise information from Eddy Farm. I also enjoyed hearing from someone in the beginning stages of flower farming.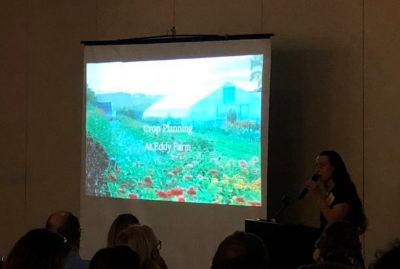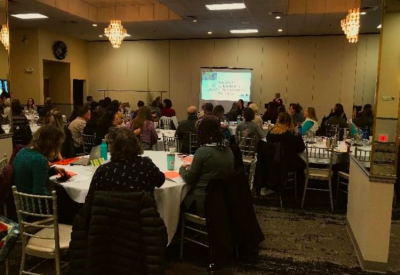 UConn Extension's Vegetable & Small Fruit Conference
January 6, 2020, Maneeley's Conference Center, South Windsor, CT
Mary Concklin (Chair), Shuresh Ghimire, Leanne Pundt, Ana Legrand
This annual conference, attended by 264 growers and industry members, featured 9 topics and speakers including
Niche Crops: Summer fallow that builds healthy soils, smothers annual weeds & nets cash income as high value pea shoots. Eero Ruuttila
Maximize production, efficiency & SWD Control with Bramble Pruning Strategies. Laura McDermott, Cornell
Integration of Cover Crops into Vegetable Production Systems. Rebecca Brown, URI
Using Trellising to Help Manage Bramble Plantings. Laura McDermott, Cornell
Understanding Growing Hemp. Peter Armondo, Controlled Environment Agriculture, Griffin Greenhouse
Alternative Bird Control Method: SonicNets. Sam McClintock, Midstream Technology
Niche Crops: Mushrooms. Ken Metz, Chatfield Hollow Farms;
Mammal Control in Berries & Vegetables: 2 and 4 Legged. Scott Williams. CAES
Niche Crops: Growing and Marketing Ginger. Rachel Berg and Elise Cusano, Four Root Farm
The trade show attracted 36 vendors featuring plants and products applicable to vegetable and fruit growing, as well as USDA agencies, UConn and the CT Department of Agriculture.
70 attendees completed the evaluation form - 90% indicated they learned something that would help their business.
Attendee Comments
Very good conference. All speakers were excellent.
Helpful and informative for a new/beginning farmer. Thank you.