November 2, 2023
Student Union Ballroom (Room 330), 2100 Hillside Road, Storrs, CT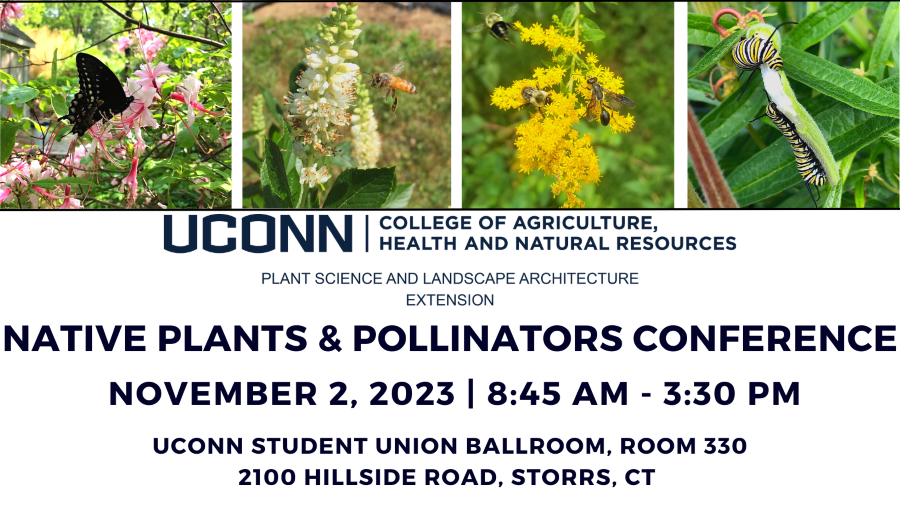 Join us for an exciting day of presentations featuring current science-based research and information on supporting pollinators in managed landscapes.
This program is designed for growers and other green industry professionals, landscape service providers, landscape architects and designers, town commissions, municipalities, schools, and homeowners. Learn how native plants support pollinator health throughout the year!
Session topics:
Bee The Future, Grai St. Clair Rice, Bee Joy
Plants for Instant Pollinator Habitat, Nancy DuBrule-Clemente, Founder, Natureworks Garden Center
How to Collect and Sow Native Plant Seeds, Sarah Michehl, Community Ecologist, The Land Conservancy of McHenry County
Monarch Butterfly Biology, Ecology, and Conservation Needs, Kelsey Fisher, Ph.D., Connecticut Agricultural Experiment Station
All Decked Out: Great New Native Cultivars, Mark Brand, Ph.D., Professor, University of Connecticut
Early: $65.00, by Thursday, October 6, 2023
Regular: $75.00, after October 6, 2023
Matriculated Students: $25.00 with valid school ID 
Registration fee includes:
Lunch & Parking
Admission to sessions
Pesticide recertification credits - 5 credits (PA, 1A, 3A, 3B, 3D, 6, 7F)
Please note that registration is nonrefundable.
If you require an accommodation to participate fully in this event (e.g., you require a sign language interpreter, handicap accessible seating, etc.), please email alyssa.siegel-miles@uconn.edu
or

conferences@uconn.edu and a staff member will contact you. Requests must be received at least 5 business days in advance.
Questions about registration? Need a PO #?
Food Allergy Disclaimer 
The University of Connecticut Department of Dining Services makes every attempt to identify ingredients that may cause allergic reactions for those with food allergies. Every effort is made to instruct our food production staff on the severity of food allergies. In addition, we label items with possible allergen-containing ingredients; however, there is always a risk of contamination. There is also a possibility that manufacturers of the commercial foods we use could change the formulation or substitute at any time, without notice. For items labeled gluten-friendly, the manufacturer ingredient labels have been reviewed and some do not contain a certified gluten-free seal. Customers concerned with food allergies need to be aware of this risk. Dining Services also operates its own bakery. Our bakery is not a nut-free bakery. We cannot guarantee the absence of cross-contamination with our baked goods. The University of Connecticut Department of Dining Services will not assume any liability for adverse reactions to foods consumed or items one may come in contact with while eating at any University establishments. Guests with food allergies are encouraged to contact their conference coordinator at 860-486-9030 for additional information and/or support. You can also visit the dietary restrictions information page. 
NOTICE TO CUSTOMERS – Because a food manufacturer may change the ingredients and nutritional content of its food products without our knowledge, we cannot guarantee the accuracy of the nutritional values, allergens, or ingredients of each food item. We label all stated allergens by the manufacturer – please keep in mind that some of these ingredients may have been made in facilities that contain other allergens. 
https://dining.uconn.edu/nutrition/ 
This program is brought to you by:
Vickie Wallace and Alyssa Siegel-Miles, Dept. of Extension, and
Jessica Lubell-Brand and Mark Brand, Dept. of Plant Science and Landscape Architecture.