Please contact mary.concklin@uconn.edu (860-486-6449) if you suspect you have this pest in fruits.
Winter moth (Operophtera brumata), a new pest of concern in New England, was confirmed in 2006 in several towns in New London County, Connecticut. Adult winter moths were captured in pheromone wing traps placed on host trees in December 2005 as part of a survey conducted by the USDA APHIS Cooperative Agricultural Pest Survey (CAPS) program in Connecticut. This exotic insect is of great concern in our state due to its propensity for significant feeding damage to a number of fruit crops, trees, shrubs, and perennials. Since 2003, winter moths have moved from coastal areas of Massachusetts to several inland towns and have also been found causing extensive damage in all counties of Rhode Island.  Winter moths have also recently been confirmed in other New England states.
Winter moth adult trapping during the 2008-09 winter by UMass and the US Department of Agriculture resulted in positive finds in the Connecticut towns of Thompson, Killingly, Sterling, Voluntown, North Stonington and Stonington, as well as, Woodstock and Groton. UMass scientists are predicting outbreaks in parts of MA again in 2009. We have been receiving reports of possible winter moth outbreaks in southeastern Connecticut. Winter moth has a broad host range, including apples, blueberries and a wide range of ornamentals. At this time of year the larvae have moved from within the expanding buds and leaves and are now openly feeding on the foliage. Young larvae feed in and cause severe damage to developing buds on host plants, while older larvae become free feeders on plant foliage, which may cause complete defoliation. The larvae will continue to feed until pupation, which will occur in late May or early June.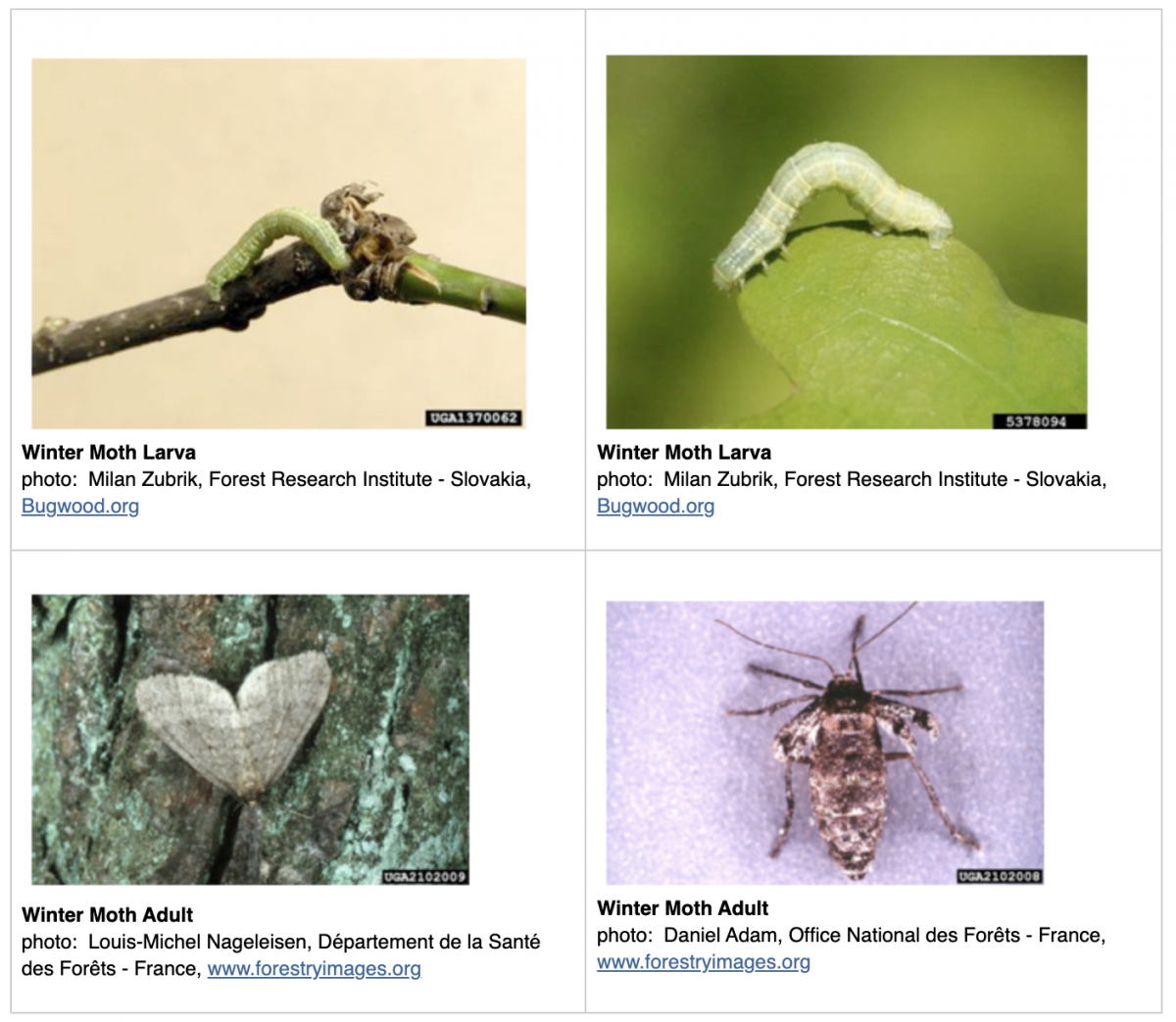 Winter moth is a harmful plant pest in Europe that was introduced into Nova Scotia in the 1950s. The exotic moth is regarded as a major pest of agricultural crops. It is a generalist feeder with the potential for causing destructive injury on a wide range of host plants. The immature moths, called larvae, inchworms, or loopers, attack many types of fruit, including apples, blueberries, and cherries, a number of trees and shrubs such as maple, oak, ash, birch, elm, linden, and crabapple. Additionally, winter moths have been observed on viburnum shrubs, roses, and other perennial crops that are a vital component of Connecticut agriculture and natural areas. Winter moths have become well acclimated to conditions in New England, and have adapted to Massachusetts and Rhode Island coastal and some inland climates. Based on its rapid rate of establishment there, it has been found to produce high numbers of offspring.
Winter moth larvae are similar in appearance to the larvae of Bruce spanworm (Operophtera bruceata), a common species in forests and woodlands in Connecticut and New England.  Larvae are pale green caterpillars with a white stripe running down each side of the body. They have 2 pairs of prolegs, which are located at the back end of their body. They grow to a length of about 1 inch. Larvae are expected to be feeding on foliage within the next 2-3 weeks.
A fact sheet and other updated information on the winter moth, including control recommendations, can be found on these University of Massachusetts websites:
Information on our site was developed for conditions in the Northeast. Use in other geographical areas may be inappropriate.
The information in this document is for educational purposes only.  The recommendations contained are based on the best available knowledge at the time of publication.  Any reference to commercial products, trade or brand names is for information only, and no endorsement or approval is intended. The Cooperative Extension System does not guarantee or warrant the standard of any product referenced or imply approval of the product to the exclusion of others which also may be available.  The University of Connecticut, Cooperative Extension System, College of Agriculture and Natural Resources is an equal opportunity program provider and employer.